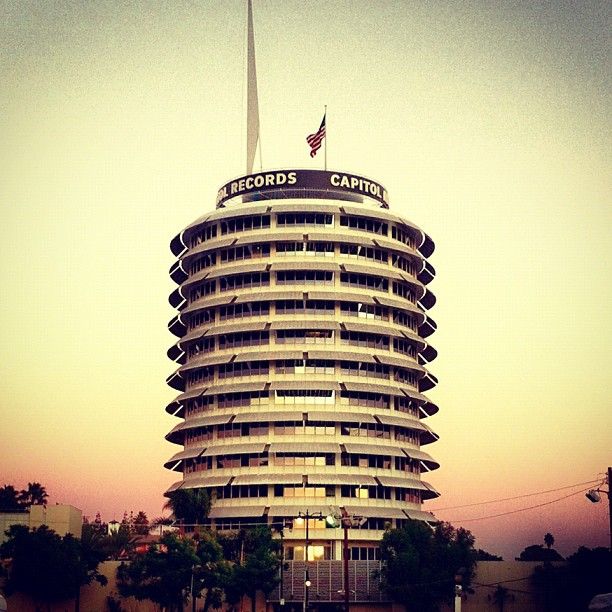 It's been many years since I lived in Los Angeles. I pass through there now and then, but I don't recall when I last put in-person eyes on that ever-recognizable symbol of recording studios we know so well. Movies and TV show us the Capitol Records Tower occasionally, but when my wife and I saw it depicted in a recent viewing of Lucifer, she asked what was happening there these days. "They don't make records there now, do they?"
I beg forgiveness from the music industry for not knowing the answer. As a songwriter and musician, I feel a responsibility for ongoing awareness of such a music landmark. I sense I'm not alone, however. I'll go so far as to say I'll wager at least half of all Americans don't know whether that building still houses an active Capitol Records enterprise. So, I've checked into it now and I'm pleasantly surprised at what I've learned.
A Brief Look Back
The Capitol Records Tower was built in April of 1956. The British music company EMI had it constructed when they purchased Capitol Records in 1955. It stands 13 stories high and is said to be the world's first circular office building. It's easily seen from the Hollywood Freeway. It is also a short walk from the famous intersection of Hollywood and Vine, a fact I would like to have known during my many visits to that very spot in years past.
The design of the building resembles a stack of records, complete with a spire which looks like a spindle for the records to revolve around. There is a difference of opinion as to whether it was an intended representation. Who knows? Maybe it was an unintentional but subliminal design born in the subconscious. That may be a disservice to the architect Louis Naidorf of Welton Beckett and Associates, renown for noteworthy buildings in the L.A. area. Examples include the Santa Monica Civic Auditorium, the Music Center and Cinerama Dome.
A highly innovative feature of the recording studios is a set of echo chambers built 30 feet underground in the early years. These were designed by legendary guitarist and recording artist Les Paul. The chambers naturally produced reverberation that could continue for up to five seconds. One of the most famous songs using that capability is Good Vibrations by the Beach Boys.
Other recording artists who recorded at Capitol Records Tower in the 1950s and 60s were Nat King Cole, Frank Sinatra and Dinah Shore. Later, stellar names such as Carole King, Bob Seger, Ray Charles and Green Day created record magic at the studios.
And in the 21st Century
The Capitol Records Tower and adjacent properties were sold in 2006 by EMI to a developer from New York that built a condominium nearby. It was so close that the bad vibrations from heavy equipment reportedly threatened to damage the echo chambers underground. In 2012, Capitol Records was absorbed by a new parent company–Universal Music Group. In spite of all the changes, the Tower remained the headquarters of Capitol Records and their CEO took an office there. It was the same year they upgraded their mixing console to a state-of-the-art AMS Neve 88R. This was done at least in part for highly respected record producer Al Schmitt and Paul McCartney.
One other iconic feature of the building has to do with visual art. A mural painted by Richard Wyatt, Jr. on the south exterior wall in 1990 honored famous jazz musicians such as Miles Davis, Duke Ellington, Billie Holiday and many more. It's known as Hollywood Jazz: 1945-1972. Because it had deteriorated badly, it was refurbished in 2011 by the same artist and done in ceramic tile to ensure its excellent condition for an extended future.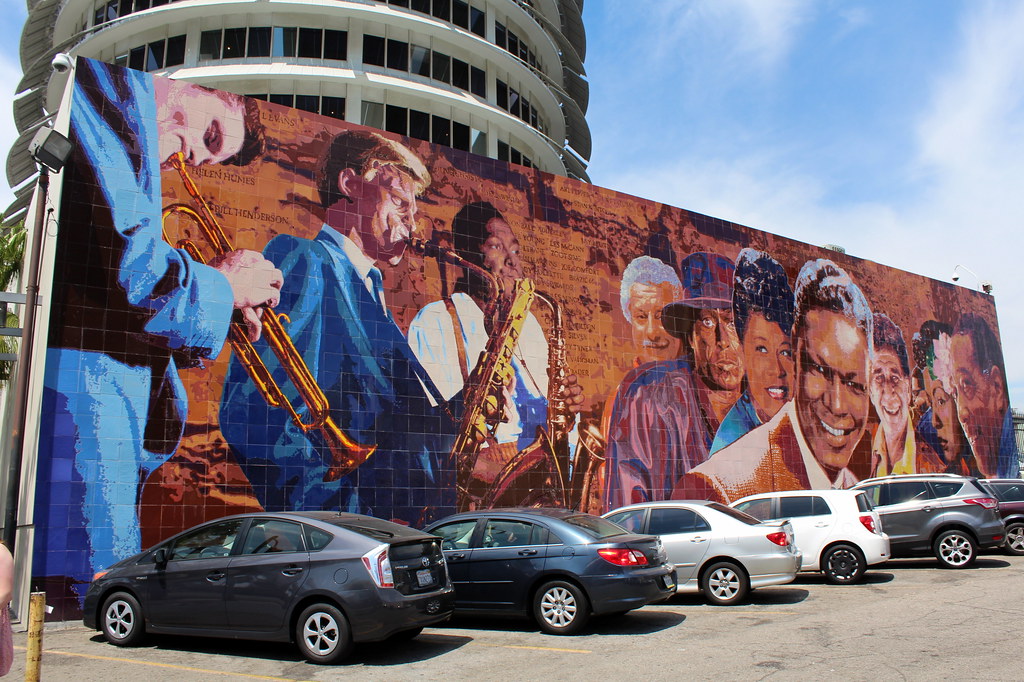 The Happenings Now
I heard the Tower has been reduced to the standing of a mere apartment building, so I've checked to see what might be available for rent. I could find no verification of residential or commercial rental space being offered there. Two separate websites for commercial property rental state the site is off market and the property tenancy carries the status of Single Tenant. I have to conclude Capitol Records occupies the building exclusively.
I did learn there are tours available to the public, so if you're ever in the neighborhood, it would be a fascinating outing for anyone interested in the music business. Capitol Studios also offers space for small and large events in a unique and classy setting.
As in decades past, Capitol Records has a roster of recording artists including Sir Paul, Katy Perry, Beck, Neil Diamond, Beastie Boys, award-winning R&B singer-songwriter Mabel, genre-defying Boslen and many other fresh acts of contemporary popular music.
So, the Capitol Records Tower is still a vibrant source of music while being a designated Los Angeles Historic-Cultural Monument, standing tall and proud in the heart of Hollywood.